text.skipToContent
text.skipToNavigation
my

Q® Business™ Connectivity Solutions

Track all your property's comings and goings with myQ Business, a cloud-based access control software for commercial facilities and residential communities.
See myQ Business Facility in action.

Real Time Data
Use custom reports to track activity highs and lows while setting KPIs and activity benchmarks.

Preventative Maintenance
Prevent downtime by knowing when maintenance is needed and empowering your dealer to get it right the first time.
Added Protection
Track and record door, dock and gate activity while delegating access by person, group, time and location.
SMARTER SOFTWARE FOR SMARTER WORK
myQ Business Facility access control software solutions help you get the most from your facility's access-point hardware with a variety of convenient features and capabilities.
SPECIALTY SUPPORT AT EVERY STEP.
The commercial connectivity experts at LiftMaster are ready to help myQ Business users every step of the way. With dedicated resources, our industry-leading support team will review your needs and identify the right connectivity solution for you, from pre-bid through post-installation.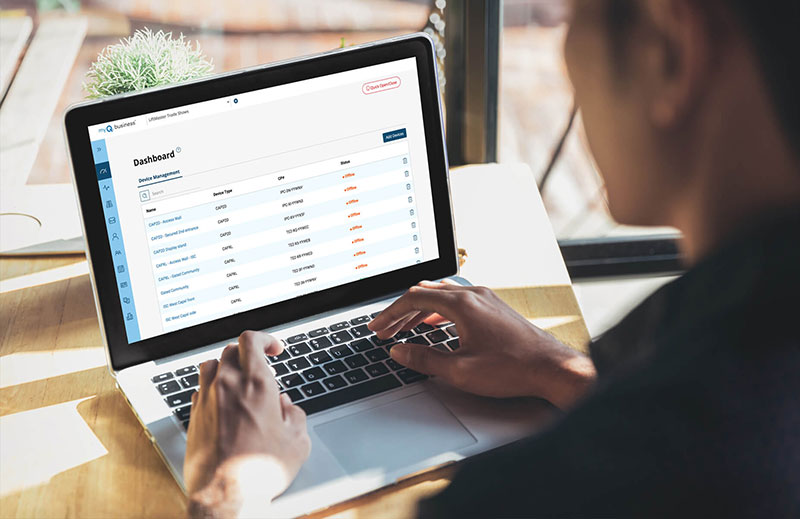 USER REVIEWS
"We didn't know what we didn't know. When we set up myQ Business Facility to send alerts anytime our doors were left open for longer than an hour, we initially were flooded by 60 notifications a day. But with the problem identified, we changed our operations process, reduced the number of notifications by half and significantly reduced our energy costs."
—Katsiroubas Produce, Boston, MA
"I can monitor the facility while I'm not in the facility, so it gives me insight into how long the doors are open and how efficiently they're being utilized. It allows me to gather data to give feedback to my employees and talk about how efficient they are at turning a door and improving that efficiency."
-The Chamberlain Group, Inc. Distribution Center Manager, Addison, IL
EXPLORE

my

Q BUSINESS FACILITY
Follow the link below to learn more about how you can optimize facility efficiency by connecting your door, dock and gate hardware.