A Holistic Approach to Commercial Access Management.
Designing a commercial property typically requires that your comprehensive assessment include how the property will be utilized, products and materials that will be handled and stored, equipment that will be used, traffic requirements and the needs and well-being of the facility's personnel.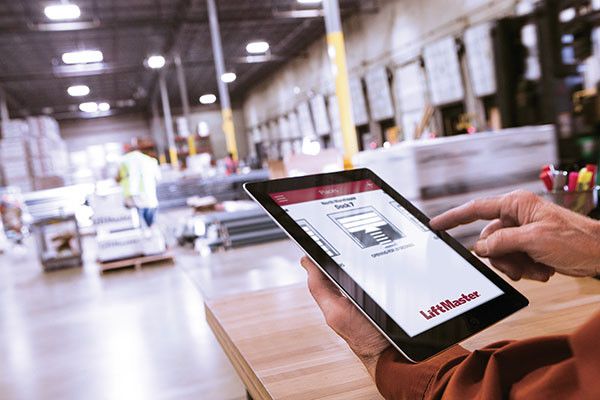 Creating a holistic access plan is a journey that starts at the perimeter and continues inward, to every location requiring controlled or monitored entry. At every step, the objective is to maximize efficient utilization, and ensure a safe, secure environment.
Each access point must be addressed individually, as there are many options available to meet specific application requirements for access to a facility. Additionally, new technologies make it possible for you to offer your clients 24/7 freedom to track and manage access remotely.
Your final plans should reflect a program which combines products that provide a seamlessly integrated, fully code-compliant system that meets UL 325 requirements.
Protecting the Perimeter
Controlling access to your client's property is the first line of defense against unauthorized entry. It is important to design systems that keep properties secure and effectively manage traffic flow.
Products like swing and slide gate operators allow for businesses to control who is permitted or granted access onto the property, whether they are guests, service providers, vendors, or employees. Authorized people will have the means to open a gate via a remote control, credentialed card or FOB, or a PIN code, while guests and visitors can be granted temporary access when using a telephone access system. Additional security can be provided with the inclusion of traffic control spike systems to provide a formidable barrier, enforce one-way traffic and thwart unauthorized entry or exit attempts.
Safe, Efficient Door Management Throughout the Building
With the perimeter secured, keeping people, equipment, materials and inventory safe inside the facility becomes the next priority. Motorizing commercial doors serves to maximize performance and security and minimize the potential for injury and energy loss.
Commercial Door Operators deliver reliable and safe automated operation of commercial doors to help keep people, equipment and property out of harm's way. Also, Advanced Fire Door Release Devices can be installed to integrate with the door operator and fire detection devices to secure fire doors and help prevent the spread of fire and its associated smoke, further protecting equipment and finished goods to limit damages and financial loss.
Once past the warehouse doors, other products can be integrated into a complete access program to manage pedestrian doors, and secure locations within the facility. Examples would include secured offices, areas with sensitive materials like testing labs, or areas that need to be accessed during non-working hours. Shared data bases cut down on the duplication of work, and provides a seamless system that is efficient and fast.
Performance and Safety Includes the Dock Doors
In addition to providing safe access to a facility, many commercial operators can be installed in conjunction with a dock leveler to automatically or mechanically adjust to create a smooth path for trailers transitioning to a lower or higher surface as they load or unload goods. Vehicle Restraints help prevent forklift accidents by securing trailers to the dock, so the trucks cannot pull away prematurely. Dock Seals and Shelters help maintain the desired facility air temperature and provide bug and rodent protection during material handling operations. Additional dock accessories can improve energy savings, communication and safety.
Your Specifications Should Include LiftMaster®
With all of the challenges you face when specifying your projects, LiftMaster is here to provide you with all the tools you need to present your clients a complete system that offers quality, reliability, efficiency and peace of mind. From gate and door operators to access control systems and loading dock equipment, specifying LiftMaster means you are offering innovative products that are engineered to work as a seamless, compliant system that can easily be customized to meet each customer's unique needs.
LiftMaster takes your designs to the next level by offering, what no one has…the ability to connect all of these feature-rich products via myQ®. The myQ system is a cloud based technology that offers secure access via a smartphone, tablet, or computer, enabling facility managers or business owners remotely manage a commercial gate, door operator or other myQ accessory from anywhere. More importantly, alerts can inform users when a gate or door has been opened, providing them the knowledge they need to ensure their property or facility is secure.
Professional installers can ensure that the complete access system you have designed continues to run smoothly. The ability of LiftMaster components communicating through the Cloud provide your clients and their servicing dealer with real-time service diagnostics for preventative maintenance, which allows for quick response and minimal disruption to service. For every application you encounter on this journey, we help you achieve your performance and budget objectives.
For more information, contact an Architect Specialist at Specs@LiftMaster.com or call 630 - 993 - 6569.
To learn more about complete access solutions, visit LiftMaster.com.