Bring Your Clients a Connected Home
LiftMaster® Makes It Easier for your Clients to Connect for Smartphone Control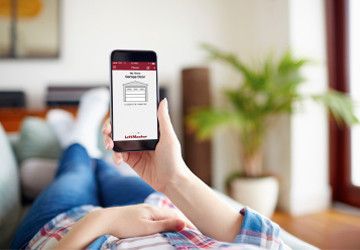 LiftMaster®, the number one brand of professionally installed garage door openers, launched the Elite Series® Residential Garage Door Opener in 2015, the first with built-in Wi-Fi, enabling customers to easily get connected for smartphone control without buying additional hardware.

Home automation is going mainstream. Your clients will desire a smart home with smart technology. LiftMaster is constantly advancing in this market and gives your client the ability to control their opener from anywhere with a smartphone via the free MyQ® app, as well as from a tablet or computer. Specifying the 8550W for custom homes will not only connect them but they will also enjoy the ultra-quiet DC motor and Battery Backup, which permits operation for up to 20 cycles in a 24-hour period when the power is out.
Finally, LiftMaster's Timer-to-Close functionality allows your client to set the time after which their garage door will automatically close, ensuring their door is never left open by accident. Because this feature allows the garage door to be closed without being in the "line of site" of the door, these units comply with UL 325 safety standards which require audible and visual warnings to occur for 10 seconds before the door begins to close, reinforcing LiftMaster's commitment to providing the safest garage door openers available.
Learn More

>