Construction Employment Growth More than Double the National Trend
In welcome news, for the fourth quarter of 2016 through the beginning of this year, job growth in the construction fields has been outpacing growth elsewhere in the economy.
This story was originally published in Concrete Construction.
Marcum LLP, a top accounting and advisory firm, today released its annual analysis of employment trends in the construction industry. The 2016 analysis by Marcum's Construction Services Group identifies a significant uptick in construction employment trends in the final months of last year, which has continued into 2017. The report is based on the Bureau of Labor Statistics' Job Openings and Labor Turnover Survey (JOLTS).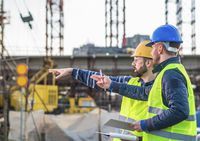 From September 2016 through January 2017, 105,000 net new construction jobs were added to the economy, a 1.2 percent employment expansion. This was more than double the growth rate of 0.5 percent in U.S. employment across all industries.
In the same period, construction unemployment spiked from 5.2 percent to 9.4 percent, outpacing the typical seasonal increase. The national unemployment rate dipped marginally from 4.9 percent to 4.8 percent over the same five months.
"The increase in construction employment is remarkable in that the number of net new jobs created in the construction industry in just a few months would represent a decent performance over the course of an entire year," wrote Anirban Basu, Marcum's chief construction economist, who authored the report. "The really good news is that the nation's construction unemployment rate also surged. The implication is that many individuals recently entered the labor market in search of construction jobs, perhaps on the expectation of a forthcoming infrastructure-led stimulus package. That's terrific news for an industry that has been concerned about a lack of labor force growth for years."
Other Key Findings
The construction industry hired 388,000 new workers in December 2016, suggesting that construction firms expect to become busier on average.
Job separations are generally in decline, as construction firms are working harder to retain staff.
The number of job openings continues to edge higher, but net hires (hires minus separations) has been flat. This is evidence that construction job openings have become steadily more difficult to fill.
The fact that the number of construction jobseekers has expanded without a concomitant increase in hiring strongly indicates that many of the labor force's new entrants lack the skills necessary to be relevant to construction firms today.
As construction skills shortfalls continue to rise, compensation growth will accelerate as firms seek to lure talent from competitors.
"For many years, construction firms strove to limit compensation increases in an environment characterized by sluggish construction spending growth and depressed profit margins. That has begun to change," Mr. Basu wrote. "Profit margins have edged higher over time even as construction workers have become scarcer. Should the new administration in Washington, D.C. choose to move forward with an infrastructure-led stimulus package, the construction skills shortfall will become even starker."
For the complete 2016 Marcum JOLTS report, visit www.marcumllp.com/construction.
One of the leading construction accounting firms in the U.S., Marcum LLP's Construction Industry Practice group provides audit, consulting and taxation services to clients ranging from start-ups to multi-billion-dollar enterprises. The group's professionals, among the country's foremost experts in construction accounting, are frequent industry authors and speakers and also serve as technical reviewers for the AICPA's construction audit and taxation guides. In addition to the annual Marcum JOLT Survey analysis, the group publishes the quarterly Marcum Commercial Construction Index.
This article was originally published by Architect magazine on March 15, 2017.
For additional information, please visit LiftMaster.com or email an architect representative at Specs@LiftMaster.com.