LiftMaster and Nest Cam Offer Live Video
LiftMaster announced the next phase in its relationship with Nest (nest.com), bringing Nest Cam video to the LiftMaster® MyQ® App. While MyQ has always alerted users to garage door activity via smartphone notifications, with a Nest Cam in the garage, users can see photos and video of what's happening in the garage the moment the garage door and Nest Cam are activated. By linking the MyQ and Nest Cam apps, and placing a Nest Cam in the garage, users can access their Nest Cam and see the activity from within the MyQ App.


From Within the MyQ App, Consumers Can Now:
• Monitor home activity when the garage opens or closes
• Receive MyQ alerts when Nest has detected motion and view live video from their Nest Cam
• Control the Nest Cam to take snapshots of current activity
• Access both MyQ and Nest Cam from anywhere within one smartphone app
• See time-lapsed video clips and even history with a Nest Aware + Video History subscription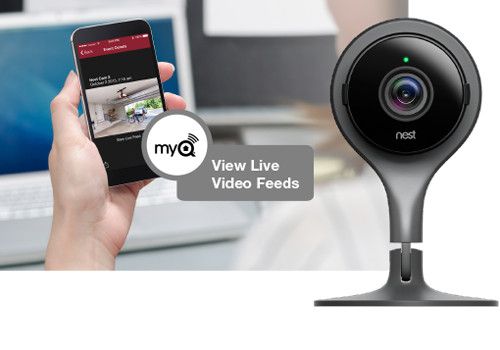 "Combining garage door control, alerts and now video into the MyQ app gives architects the opportunity to communicate another MyQ benefit to their customers," said Juan Lopez, Director of Connectivity. MyQ empowers consumers to monitor and control the garage door anytime, anywhere from their smartphones, ensuring the garage door is closed and their homes are secure. The garage door is one of the most frequently used access points into the home, requiring a level of security that is the foundation of MyQ Technology. LiftMaster innovations are recognized by other industries and are invited to advance in technology to bring value-added products to your clients. LiftMaster has been a Works with Nest partner since 2014.