Protect Personnel and Equipment
When employees work within a warehouse and use heavy equipment such as a forklift every day, ensuring the safety of people and equipment is key. LiftMaster® launched the Light Curtain (LC-36A) which provides 36 inches of additional coverage and forms a curtain of invisible light to stop a door in a warehouse, auto dealership, fire station or any commercial setting from closing if an obstruction is detected, protecting personnel, vehicles, and other high apparatus obstructions. It must be used with a primary monitored entrapment device to maintain compliance with UL 325 safety standards. The Light Curtain can be mounted to customize the zones of protection when secondary entrapment protection is required.
Mike Morgan of Anderson Overhead Door in Carterville, IL has been a leader in commercial door installation in Southern Illinois for over 37 years. Morgan has installed numerous Light Curtains in manufacturing company settings and finds the installation very simple and his customers have been very happy with the enhanced safety feature that it provides. "The manufacturing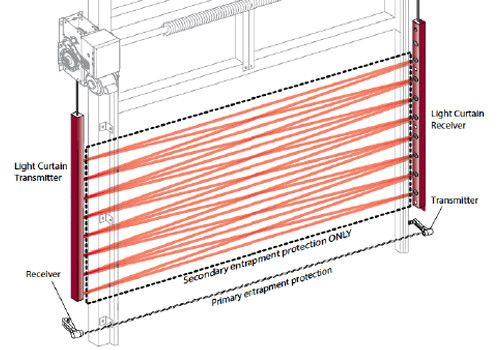 location moves a lot of carts through and the UL 325 required photo eye height of 6' does not prevent them from closing on the carts. They really liked the safety of having the extra protection over a 3' area."
The LiftMaster LC-36A is an ancillary device and must be used with a primary monitored entrapment device to maintain compliance with UL 325. The LiftMaster CPS-UN4, CPS-RPEN4, CPS-OPEN4 and CPS-U meet this requirement. Failure to use the appropriate sensor or failure to install the sensors properly, may expose the installer and customer to liability, should an accident occur. LiftMaster is excited about the addition of the LC-36A Light Curtain – the added security provides peace of mind that your employees and equipment are safe and out of harm's way.