Specifying Complete Systems for UL Compliance
Gate and commercial door operators are specified, more and more, in order to enhance safety and security, as well as providing clients with the convenience of controlled and automated access. As these demands grow, it is important that these systems are configured and installed safely.
Underwriters Laboratories (UL) continues to update UL 325 to reduce safety risks involving automated gate and door systems. UL 325 requires gate and commercial door installations to include specific entrapment protection devices that are tested and listed together with the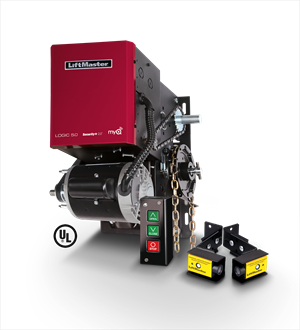 operator. The safety devices required by UL 325 are de­­signed to protect people from potential injury in entrapment zones and are available in various forms. . The safety devices range from constant pressure-to-close functionality to continuously monitored external safety devices. If the operator and safety devices are not tested and listed together with UL, or the installation does not include the required safety devices, the installation will not be considered to be UL 325 compliant.
Specific types of safety devices and the quantity that will be needed is based on the project application. Installation requirements will be outlined by manufactures in their owner's and installation manuals.
Building Codes have also been modified to require that door and gate operators be labeled and listed to UL 325. This update has been made in the International Building Code, the International Residential Code and the International Fire Code. Lack of a compliant system may result in an unsafe installation, code violations, or future liability concerns.
By engineering a UL 325 compliant gate and commercial door operator with the required safety devices, manufactures provide products that are built to deliver the highest standards of safety and performance, and provide peace of mind for every application.
According to Jackie Lorenty, LiftMaster Vice President and General Manager, Perimeter Access Solutions, "We are committed to providing products that are not only designed to provide best-in-class performance but also meet the stringent UL 325 standard.
Learn about our Commercial Door Operators, Gate Operators, and Access Systems. Compare features, capabilities and see related accessories.
For additional information contact us at Specs@LiftMaster.com.