Not Just For Parking
The residential garage is getting bigger and more versatile
The last few years have seen more remodeling and new home sales. As part of that, homeowners are focusing more attention on a once-forgotten space: the garage. Trends include bigger and better looking doors, quieter openers and connectivity.

Better designs

With the garage accounting for 40 or 50 percent of the front elevation in many homes, the desire for better looks should be no surprise.

High-design doors are most popular among buyers of custom homes, and there are more than ever to choose from. "Ten years ago your choices were raised panel and raised panel," says Dallas Miller of D&D Garage Door in Sarasota, Fla. "Today, however, you can get nearly any design you want."

He is seeing more wood overlays, recessed panels and carriage house designs. Decorative hardware is also in demand. "Even people in average priced homes are putting more care and money into design," he adds.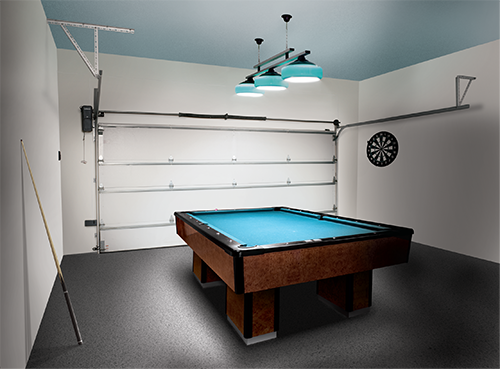 Bigger doors
On expensive beachfront homes with narrow lots that only leave room for one garage door, Miller is seeing more garages with high ceilings that can be used for storage. But the well-heeled owners of those homes are going way beyond the pulley lift some homeowners buy to store a kayak. These owners are installing the same type of car lifts used in urban parking facilities. "They put the expensive car up top and park the everyday car below it," said Miller.
In more typical markets, homes may not be getting taller garages but they're still getting taller doors. "Our standard garage door used to be seven feet tall. Now it's eight feet," says Dennis Webb, Vice President of Operations with Fulton Homes in Tempe, Ariz.
Overhead storage or not, Miller and Webb both report more buyers opting for wall-mounted openers rather than traditional ceiling mounted units. In fact Webb says that his company offers it as an upgrade and that 30 percent of buyers choose it.
More connectivity
Homeowners also want to monitor and operate the garage door when they're not home, and manufacturers have developed apps that let them do so from their smartphones. These apps may also include push notifications, which alert homeowners to any garage door activity.
One innovative solution is the Apple HomeKit home automation system, which includes an app that makes it easy to set up and control the garage door opener from an iOS device. Homeowners can even set up "scenes" that control several accessories with one command, for instance turning off the lights, closing the garage door and lowering the thermostat.
Miller believes that demand will continue to grow for garage doors with the same voice control capabilities available elsewhere. "People want to integrate the garage door opener with voice control apps like Apple's Siri and Amazon's Alexa," he says.
In other words, builders who offer homeowners a blend of aesthetics, convenience and security in the garage should have a ready market.
For inquiries on LiftMaster products, please visit
LiftMaster.com/Builder
or email your builder representative at
BuilderPrograms@LiftMaster.com
.