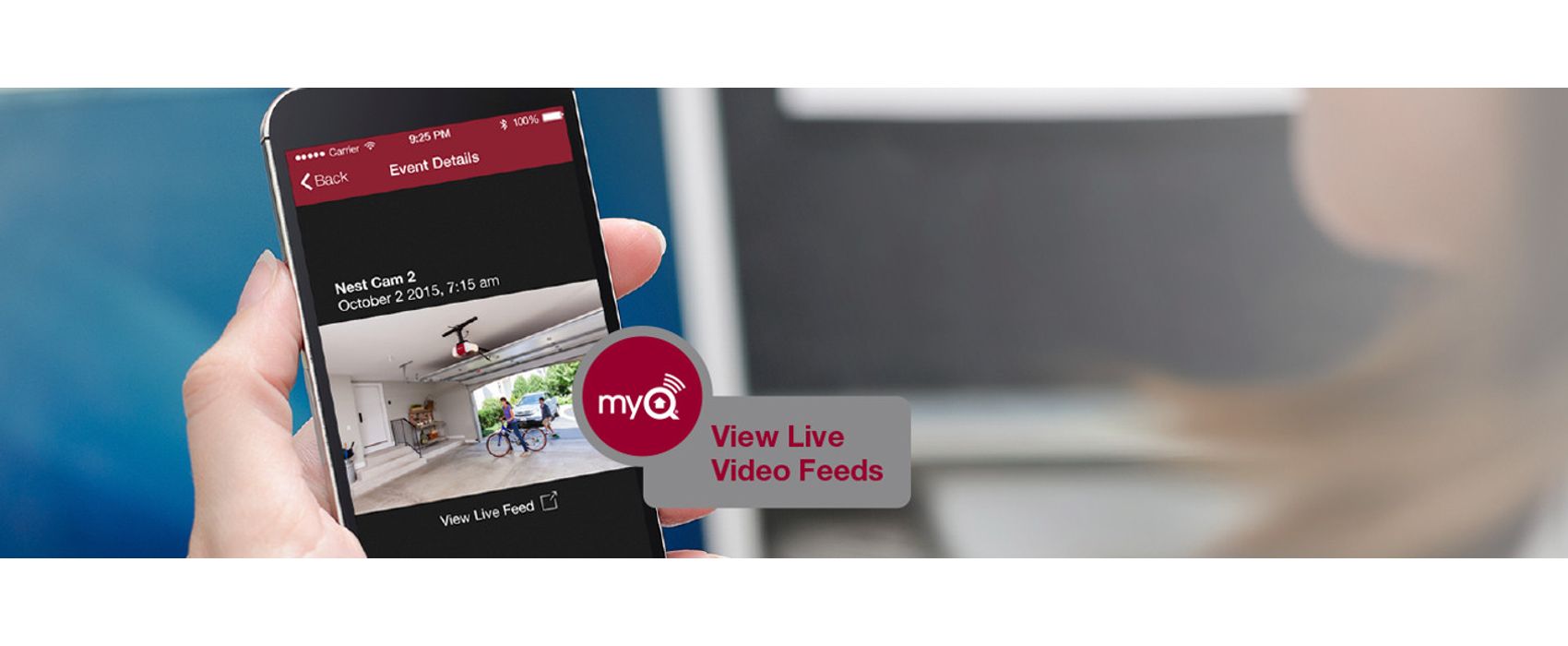 LiftMaster® and Nest Cam Offer
Live Video Feed Through Your MyQ® App
Now you can see what is happening in your garage when you're away
LiftMaster has announced the next phase in its relationship with Nest (nest.com), bringing Nest Cam video to the LiftMaster® MyQ® app. While MyQ has always alerted users to garage door activity via smart phone push notifications, with a Nest Cam in the garage, you can now view a live video feed from the garage, or any other room, and receive notifications when motion is detected, all from the MyQ app.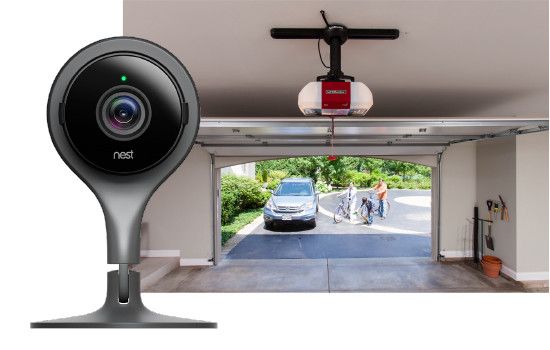 " FROM WITHIN THE MYQ APP, CONSUMERS CAN NOW:
• Monitor home activity when the garage opens or closes
• Receive MyQ alerts when Nest has detected motion and view live video from their Nest Cam
• Control the Nest Cam to take snapshots of current activity
• Access both MyQ and Nest Cam from anywhere within one smartphone app
• See time-lapsed video clips and event history with a Nest Aware + Video subscription
Combining garage door control, alerts and visual cues into the MyQ app makes perfect sense for consumers and is a logical extension of our relationship with Nest," said Juan Lopez, Director of Connectivity. "Most people begin and end their days coming and going from the garage, so MyQ is a natural launching point for many connected devices throughout the home, including the Nest Cam and Nest Thermostat."
MyQ empowers consumers to monitor and control the garage door anytime, anywhere from their smartphones, ensuring the garage door is closed and their homes are secure. The garage door is one of the most frequently used access points to the home, requiring a level of security that is the foundation of MyQ technology. MyQ is essential to the connected home experience, allowing people to view, open and close their garage door, as well as receive alerts and notifications, from anywhere.
LiftMaster has been a Works with Nest partner since 2014 and integrates seamlessly with the Nest Learning Thermostat™. Through this relationship, MyQ allows users to easily and quickly set their Nest Learning Thermostat to "Home" and "Away" modes from within the MyQ app. When people open the garage door upon arriving home, MyQ users can set their Nest Thermostat to "Home" mode. And when they close the garage door on their way out, the thermostat can go into "Away" mode so they don't waste energy heating or cooling an empty home.
*Requires Nest Aware subscription. Nest, Nest Learning Thermostat and the Works with Nest logos are trademarks licensed by Nest Labs, Inc.