Offer Battery Backup When The Power Goes Out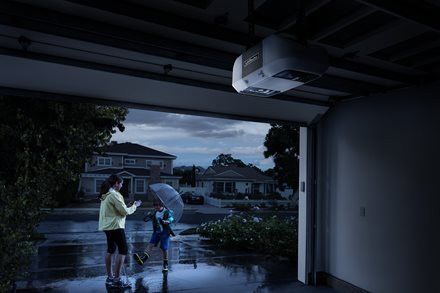 Although the garage door is the largest and heaviest moving part in one's home, the possibility of the garage door not opening during a power outage is something your customers are not thinking about. This can pose a big inconvenience and security risk.
Builders are able to offer customers a simple access solution that can help prepare for the next inevitable storm or any unforeseen outages throughout the year. LiftMaster garage door openers equipped with an integrated Battery Backup system, can be professionally installed and provide a peace-of-mind and added protection for the next power outage.
The Battery Backup Solution
LiftMaster garage door openers with Battery Backup allow homeowners to enter and exit their garage when the power is out by supplying backup power. During a power outage the battery supplies power for up to 24 hours of operation.
Once power is lost to the home, the Battery Backup system automatically kicks in. Dedicated to full access and safety, the Battery Backup system on the LiftMaster garage door opener operates so all remote controls and garage door opener safety systems work normally. Also, to notify the homeowner that the garage door opener is operating under battery power, a series of recognizable, audible sounds signal when the door is opening or closing. As an added convenience feature, a flashing LED light alerts the homeowner when the battery is charging, in use, or when the battery needs to be replaced. The battery, which has a life of roughly one-to-two years under normal use, is warrantied for one year from the date of purchase to the original owner.
As an easy and reliable way to ensure security, safety and convenience during a power outage, recommend a LiftMaster garage door opener with Battery Backup.
For Battery Backup
For inquiries on LiftMaster products, please visit
LiftMaster.com/Builder
BuilderPrograms@LiftMaster.com