LiftMaster Solutions
Whether your next project is a commercial warehouse, a high-rise apartment building or a gated community, you are tasked with anticipating the access activity of employees, residents, and guests, and your clients are counting on you to do so.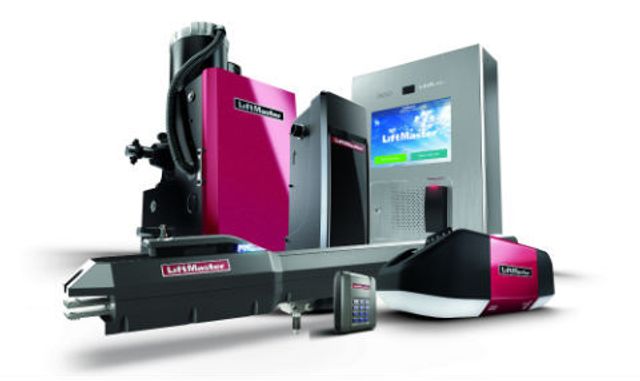 At LiftMaster®, we've been anticipating these challenges for over 50 years. We engineer products that work as seamless, code-compliant systems – assuring smarter and safer access solutions that meet each customer's unique needs. As industry pioneers, we are also committed to driving innovation and advancing safety. For every application, look to LiftMaster for the total solution -- comprehensive access systems that reflect your attention to detail.
Commercial Door Operators
When designing commercial facilities, protecting personnel, equipment and inventory of your client's business operations are critical. Motorizing warehouse doors is a simple way to meet these needs. LiftMaster's full suite of UL 325 compliant Commercial Door Operators provide many options-- including hoist, jackshaft, sliding and trolley designs--that deliver reliable, safe operation of any door. LiftMaster operator performance is enhanced with our UL 325 compliant accessories that ensure the highest level of safety and minimize the opportunities for injuries in most commercial door applications. The addition of myQ® provides alerts and status of the door or gate, which assists in keeping the facility running smoothly.
Gate Operators
Whether a residential community or a commercial business park, if your project includes secured vehicle access that would necessitate the need for a gate and gate operator, you know that assurance of safety and security is paramount to the individuals who live or work there. They want to feel confident that the gates will operate every time they need to enter or exit, but will also deter all unauthorized entry. At LiftMaster, our Gate Operators utilize our Monitored Safety Entrapment Accessories and integrate with our Access Control products to create a seamless compliant system that provides unparalleled safety and security. Onboard myQ software gives homeowners and property managers customizable and flexible access control from anywhere. Our UL 325 certified systems are engineered with the highest quality standards, longevity and include powerful features like Battery Backup and Security+ 2.0® remote controls with interference-eliminating technology. These result in zero down-time for our operators, so the property is always safe and secure--giving your clients peace of mind.
Traffic Barrier and Spike Systems
For projects requiring enhanced security and management of restricted vehicle access, LiftMaster offers Motorized and Manual Traffic Control Solutions. Available as surface or flush-mount products, these fully integrated barrier gate and traffic spike systems provide a formidable barrier to enforce one-way traffic and to thwart unauthorized entry or exit attempts. All LiftMaster traffic barrier and spike systems are engineered to efficiently control traffic flow and amplify protection in maximum-security applications.
Access Control Solutions
Another important aspect of effective perimeter security is fast, accurate verification of authorized persons and vehicles. LiftMaster's extensive selection of Access Control products help streamline traffic flow into and within the facility. From cloud-based controllers to keypads, credentialed cards and readers, our Access Control products can be specified to manage and maintain all entrances. And with integrated myQ software, property or facility managers can regulate, track and secure all traffic remotely.
Residential Garage Door Openers
For more than 70% of all homeowners, their garage door is also their front door. Using the garage as their primary entrance means they need a garage door opener that not only meets their needs of security and entry to their home, but keeps them connected to their home. LiftMaster offers the most advanced Garage Door Openers available, with smart home and security features that simplify the lives of homeowners and secure what matters most. From ultra-quiet models that work well in homes with rooms above or next to the garage, to powerful models designed to lift the heaviest doors, LiftMaster has a wide variety of Garage Door Openers for every application. Powerful features like myQ
®
Smart Home, Battery Backup and Security+ 2.0 remote controls mean homeowners have every confidence that their home is secure. Smart partnerships with some of the leading connected home solutions like Google and Honeywell, provide homeowners even more customized control and the ability to stay connected to their homes from anywhere.
At LiftMaster, we are committed to helping architects meet the challenges of each project with the safest and most innovative access solutions available. Connect with us today to help you customize the right solution for your next design.
Have questions about the LiftMaster solutions for your designs? Reach out to your Architect Specialist at Specs@LiftMaster.com or call 630-993-6569.
To learn more about complete access solutions, visit LiftMaster.com.