How Connected Operators Earn ROI
Why do so many warehouses and distribution facilities still have manual doors?
Although a lot of loading dock doors are still opened and closed manually, it's not hard to quantify the value of specifying a motor-driven commercial door and operator system. And of course operators are a must-have in any new facility. The benefits include safety, productivity, and energy savings.
Building owners and designers put great effort and expense into making their buildings energy efficient and qualifying for LEED certification, a process that starts at the design stage and carries through to project completion. Although overhead doors left open too long obviously waste energy, employees are much more apt to leave a manually-operated door open. After all, why go through the effort if the next truck is arriving in ten minutes?
But a recent test at a foodservice distributor's refrigerated warehouse demonstrated that even one minute can have a big impact. When just one door is left open for a single unnecessary minute per day, the warehouse loses $1,103 per door per year. After installing automated doors, the same facility saved $17,000 in energy costs per year and received a return on their investment in less than 18 months.
Savings from automated doors can also be found by improving employee safety. Third-party logistics providers incur $680 million per year in workplace injury compensation, of which $109 million were related to dock door injuries. Indeed, 25 percent of all injuries occur at the dock.
There are even greater potential savings from connecting door operators to the Internet. For instance LiftMaster's Commercial Door Operators with MyQ® technology can be monitored by building management. In a large facility, the MyQ app lets managers see which doors are open or closed, and when. This information can be a useful management tool. If, for instance, it should take 20 minutes to load a semi-trailer but the app shows that certain doors remained open for 40 minutes, then managers can check in with employees and correct any problems.

Doors left open are also more likely to be left unattended. In a food distribution warehouse this can let rodents, birds and dust inside, putting the facility out of compliance with FSMA requirements. In other facilities there may be flammable or dangerous material that has to be kept secure. A good solution for both cases is an installation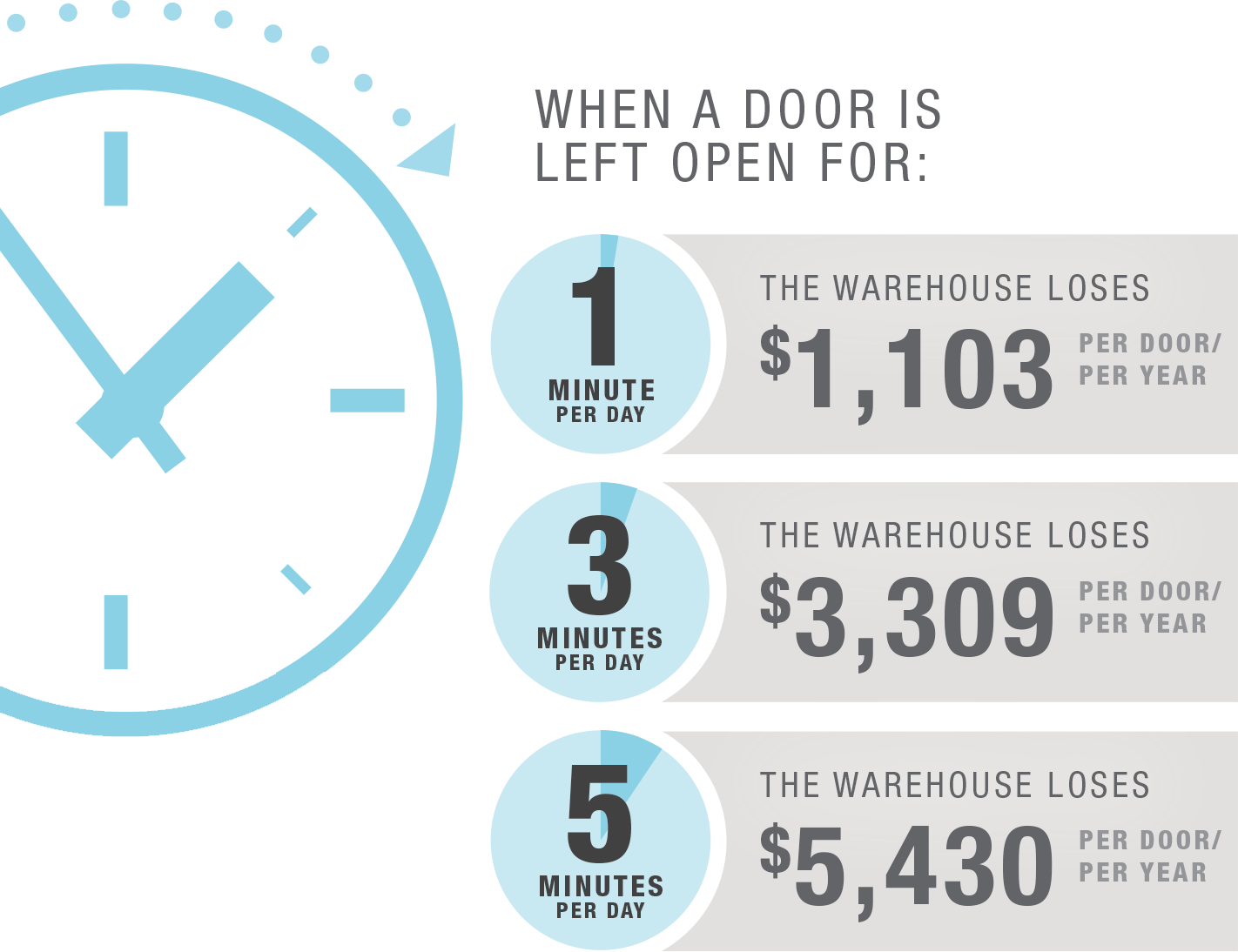 that includes a door system that seals the opening when a truck is at the dock, and an operator equipped with Timer-to-Close functionality that automatically closes the door when the truck leaves.
Consistently closing unattended doors also makes the facility less vulnerable to the growing problem of cargo theft. The FBI estimates nationwide losses at $15 billion to $30 billion per year, and logistics company CargoNet says that about a quarter of those thefts are from distribution centers and warehouse yards. The Enforcer, a Waconia, Minnesota-based transportation security company, attributes much of that to the organized crime, for whom cargo theft is a growing source of revenue.
That's a good case for not leaving doors open and unattended—and for investing in equipment to make sure they're not.
For additional information contact us at Specs@LiftMaster.com.