Protecting People and Property
Manufacturers offer safety devices to enhance safety and convenience.
The main job of a commercial gate or door operator is to control access, but it should also protect people and vehicles passing through the access point from injury or damage. That means specifying an operator and safety devices that are tested and listed to the relevant Underwriters Laboratories, Inc. (UL) standard, along with specifying the right accessories for the business.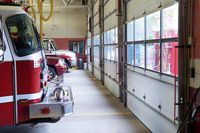 Safety Accessories
UL regularly updates their standards for safety to reflect changes in industry practices, and innovations in technology, or to address recently identified safety issues.For commercial door operators and gate operators, the UL 325 standard requires that entrapment zones are protected
by monitored safety devices that are designed to reverse a moving gate or door to prevent injury.
The UL standard requires monitored entrapment protection devices such as pressure sensitive contact edge sensors and/or non-contact photoelectric sensors. For non-automated gates and doors, monitored entrapment protection devices are not required.
For further information on UL requirements, go to LiftMaster.com/safety.
Convenience Accessories
While UL 325 is designed to protect people from injury, it doesn't directly address vehicle or property damage. To help business owners meet these needs, manufacturers offer additional convenience devices that are not required by UL standards.
For example, a potential issue with an automated commercial door operator is that some vehicle chassis are higher off the ground than the beam on the UL-listed photoelectric sensor, making it possible that a door could close on a vehicle stopped in the opening.
To avoid a vehicle getting hit by the door, a second set of photo eyes installed higher off the ground may be installed, or a light curtain, which is an accessory that houses infrared cross-beams that form an invisible zone of coverage across the plane of the door to detect people, property & equipment. When any of the cross-beams are broken, the operator stops and reverses the door to prevent contact and/or injury. When used with primary photo eyes, a set of light curtains provides an additional 36 inches of vertical coverage, optimal for detecting vehicle bumpers, fire truck ladders and hi-lift work buckets.
In addition, in-ground sensors often called loop detectors, are designed to stop the gate or door from closing when a vehicle drives over them. Loop detectors placed inside a gate or door can command the operator to close immediately after a vehicle has passed through.
Some facilities pair the loop detector with a door-position indicator. They're common in firehouses and car dealerships and alert the driver when they can safely proceed without hitting the door.
It is important to note that all of the external monitored entrapment protection devices specified must be included in the manufacturer's UL Listing. They are evaluated with the operator, as part of their complete system evaluation. Mixing and matching operators and safety accessories that have not been tested and evaluated together is not acceptable. All approved entrapment protection devices can be found in the manufacturer's owner's manual for each specific operator.
These accessories have proven themselves as reliable ways to protect people and property. Any architect specifying access control equipment will want to include them.
For additional information, please visit LiftMaster.com or email an architect representative at Specs@LiftMaster.com.