Garage Door Openers that Look Ahead
LiftMaster upgrade options that add value immediately, and set the stage for added-value enhancements down the road.
In reviewing options and potential upgrades, homebuyers should consider proactive investments that will help meet their family's evolving needs in the years ahead. LiftMaster's broad range of garage door opener choices include two Elite Series® models that are top performers in the here and now, and pave the way for improvements in the future.
Automated "smart home" systems are becoming realistic options for almost any home, and LiftMaster is on the cutting edge. The LiftMaster 8550W offers MyQ® technology with built-in Wi-Fi connectivity. MyQ lets homeowners use their smartphone or tablet to check the status of their garage door from anywhere. If it's open they can close it, or open it for a family member who needs access.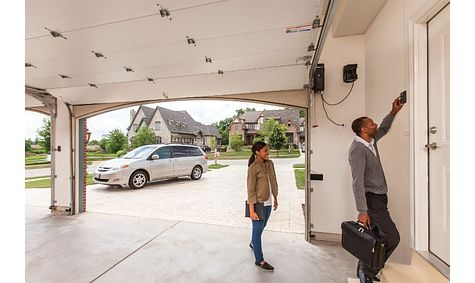 The 8550W is an easy and practical way for homebuyers to incorporate high-tech connectivity now, and build out with additional automated features in the future. Because Wi-Fi is built-in, there's no need to wire the 8550W to a separate internet router. Other upgrade features include a powerful and quiet DC belt drive system and built-in Battery Backup, so the opener works even when the power's out.
Another forward-looking opener upgrade is the space-saving wall-mount LiftMaster 8500. Any home is likely to need extra storage space sometime in the future. The 8500 maximizes available space because it mounts on the wall next to the garage door. With no door operator or rail hanging from the ceiling, there's plenty of room to add overhead shelving when needed. In garages with higher ceilings, the 8500 could leave enough room for a canoe or kayak hoist.
The wall-mount 8500 is available with Battery Backup as an optional feature, and is enabled with MyQ technology, which can easily be connected by installing a separate Internet Gateway device.
LiftMaster has teamed up with the biggest names in connected technology allowing your homebuyers to customize how their MyQ- connected garage door opener interacts with their favorite smart devices and home automation platforms. Use the LiftMaster Elite Series 8550W or 8500 to start a conversation with homebuyers about other options to meet their future needs. Talking about value now and value later will delight them by showing your attention to detail. It will also open the doors for you to close the sale of other upgrades.