Homeowners Want Battery Backup
Can your customers protect and access their homes if the power goes out?
With storm season fast approaching in much of the country, builders need to make sure their homes' critical safety and security systems will work during a power outage. Some systems already have this covered: backup batteries are part of nearly all professionally-installed security alarms and are required by code for smoke and carbon monoxide detectors.

Homeowners don't object to the small extra cost the backup battery adds to a system because they want it. This should be obvious when you consider people who work on a computer at home, many of whom don't hesitate to spend $150 on an uninterruptible power supply. Protecting the things they value is a good investment.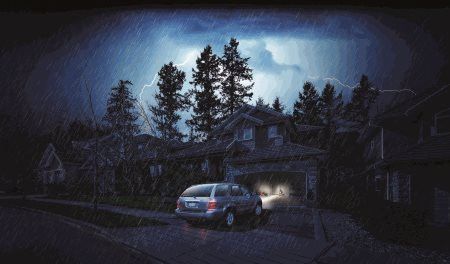 Unfortunately though, some builders neglect to offer customers this protection for other critical systems and this neglect has consequences. If a storm downs the power lines and floods the basement, a sump pump without a battery will be no more than a dead chunk of metal. And if the garage door doesn't have battery backup, homeowners may be locked out during an outage: many now use that door as their primary means of entry and exit, and many no longer carry door keys.
Battery backup is such a simple upsell that that builders need only remind homeowners what's at stake. Garage doors are a good example: when customers are given the option of upgrading to garage door opener with battery backup, most realize it's a smart decision and say yes. That's because they gain a lot of peace of mind for what's usually only a little extra.
That peace of mind includes knowing that if the kids get home from school during a power outage they will be able to get in the house and secure the door behind them. And people who are inside the home when the lights go out know they won't have to open the door by hand to get the car out, and they will know they can re-open it when they return.
So whether the concern is computer data, the clothes stored in the basement or the ability to get the car in of the garage, homeowners appreciate the option of keeping critical systems running when the power goes out.
For inquiries on LiftMaster products, please visit
LiftMaster.com/Builder
or email your builder representative at
BuilderPrograms@LiftMaster.com